Child and Adolescent Testing
Offering comprehensive intellectual evaluations for gifted school placement and other special education placements. Functional assessments provide information to inform treatment progress (as needed) and determine educational placement. Testing completed for children who have physical or developmental limits or disorders. Complete nonverbal testing of all intellectual domains available. Expert mental health assessments and recommendations for further treatment. IQ testing offered for ages two through eighteen. Includes a written report and a review session for parents.
Child Forensic Psychology
In-depth assessments of child mental, social, and cognitive functioning to assist the court in decision making. This includes issues in criminal, family, and juvenile court. Competency to proceed with trial, competency to confess, and mitigating circumstances as well as recommendations regarding the best psychological interests of the child are among the services provided. Written report and testimony as an expert witness is also provided.
Juvenile Competency Evaluation
Expert forensic evaluations will aid the court in determining legal competency in criminal and juvenile court. Complete assessment of developmental and social factors which contribute to competency. Juveniles are developmentally unlike adults, both cognitively and socially. These differences are important and are included in the comprehensive evaluation. Written report and expert testimony is provided. Recommendations for treatment provided.
Child Psychotherapy
Extensive training in child development informs the brief, behavioral therapy focused on increasing the child's adjustment. Developmentally appropriate treatment to children ages four to eighteen. Cognitive behavioral, solution informed treatment. Parents are appropriately involved in the treatment planning and process. School-based child behavioral assessments and recommendations for teachers to assist them in eliciting cooperative behaviors from the child are available.
---
More info on Child Testing and Evaluation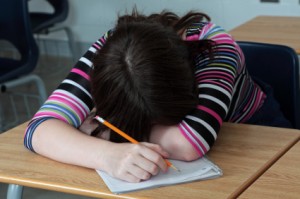 Are you wondering if your child is academically gifted?  

Is she telling you she is "Bored" in school?

Does he complain that the work is"Baby work, too easy", or "Too hard"?  

Do you think your child may have a learning disorder?  Educational and I.Q.  testing can determine the answers to these questions.
Has your public school advised you there is a long waiting period before your child can be tested by the school system?   This wait could take years, and in the meantime,  you child may struggle in school,  become "turned off" to learning and exhibit problem behaviors. 
Get a Complete Learning/Educational Assessment
Dr. Barone can provide your child a complete learning/educational assessment and have results to you often in a matter of  weeks rather than years. These results can then be presented to your child's school for appropriate educational placement.